Keeping with our long-standing tradition of upgrading technology year-after-year, Velocity Machine is pleased to announce our newest capital investments in three different departments. If you have any questions about our new machines and/or would like to have us review one of your projects to see how it would fit on these machines, please contact our Sales Manager Paul Adamski at padamski@velocitymachine.com
Production Lathes
Velocity added two (2) DMG MORI NZX2000 SY800 turning centers to form a production cell in 2018. The twin-turret, twin-spindle, high-precision and high-efficiency multi-axis turning centers with automatic bar feeders work well for mid-to-high running EAU parts.
The NZX is controlled by DMG MORI's CELOS and has a max turning length of 31.90" and a max turning Diameter of 3.58". The machines have 8" and 10" chucks and 32 live tools each (16 on each turret).
Both NZX machines are installed and in production.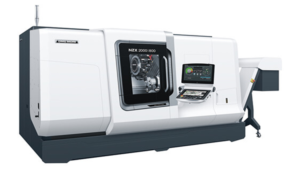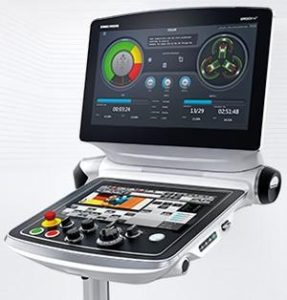 Horizontal Mills
Velocity Machine added two (2) Mazak HCN Horizontal CNC Machining Centers in 2018. The world-class machining centers are fast, efficient and versatile and are capable of machining a wide range of materials. The two machines are our tenth and eleventh horizontal machine centers. One of the machines is a 400MM and the other is a 500MM.
Both machines are run on Mazak's SmoothG controls and have spindle RPMs of 18,000.
The 500MM Mazak has a Max Workpiece Size of 31.5" DIA (800MM), a Max Workpiece Weight of 1,543# and has 120 tools.
The 400MM Mazak has a Max Workpiece Size of 24.8" DIA (630MM), a Max Workpiece Weight of 882# and has 80 tools.
Both machines are installed and in production.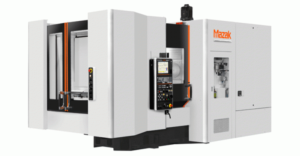 Vertical Turning Lathe (VTL)
Velocity Machine expanded its large VTL department in 2018 by adding two (2) Okuma 760EX VTL machines and a Fanuc Robot to form an efficient machine cell.
The first of the twin VTLs will be at Velocity in May of 2018, while the second will be at Velocity in September of 2018. Once both VTLs are the shop, they will be combined with a new Fanuc Robot.
Once fully installed, this will give Velocity its second Robotic Machine Cell.
The V760Ex Vertical Lathe has a max turning diameter of 29.92 inches and a max turning height of 30.31 inches. This machine is designed for performing powerful, heavy-duty cuts, while the vertical orientation is the ideal platform for running thin-walled parts without distortion. The milling (M) function adds flexibility to handle a wide range of parts.